Juneteenth, Emancipation Day, or Freedom Day, is an annual holiday observed on June 19th to commemorate the emancipation of enslaved African Americans in the United States. It marks the day in 1865 when Union soldiers arrived in Galveston, Texas, and informed enslaved individuals of their freedom some two and a half years after the Emancipation Proclamation had been signed.
Juneteenth serves as both a day of celebration and remembrance. It is a time to celebrate the progress made towards equality and justice, while also reflecting on the historical injustices that still resonate today.
We invite you to join us in celebrating Juneteenth, a momentous occasion that commemorates freedom and champions the ongoing pursuit of equality. Come be a part of the vibrant festivities, and engage in cultural performances, educational activities, and discussions that honor our shared history and foster a more inclusive future for all!
---
Celebrate Juneteenth with Harris County Public Library
Dinky Drums- June 10, 10 – 11 AM
Location: Maud Smith Marks Branch Library
Drummer and educator Sam Dinkins III presents a drumming workshop for people of all ages. Free and open to the public. This workshop is presented in partnership with DACAMERA. Seating is limited.
Lula the Mighty Griot- June 16,
Two Showings: 1:30 – 2:00 PM and 2:15 – 2:45 PM
Location: Maud Smith Marks Branch Library
Celebrate Juneteenth with two back-to-back showings of Lula the Mighty Griot! Storytelling, as you've never heard it before, takes center stage as an opera singer presents an engaging and enjoyable introduction to opera for children Pre-K – 2.
Author Van G. Garrett: Juneteenth Story Time- June 20, 3 – 4 PM
Location: Lone Star College-CyFair Library   
Join us for a live, in-person story time with award-winning author Van G. Garrett, as he reads from his newest book Juneteenth. Blue Willow Bookshop will be present to sell copies of the book, but we will also be doing some giveaways.
Juneteenth Library Voyage with Apollo Chamber Players- June 24,  2:30 – 3:30 PM
Location: Northwest Branch Library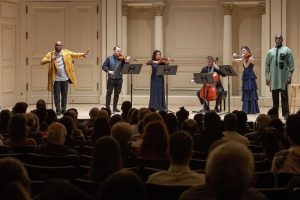 Apollo Chamber Players and HCPL celebrate Juneteenth with multicultural music, poetry, and storytelling. The program features guests Outspoken Bean, Houston Poet Laureate, and vocalist Kenneth Gayle in a special presentation of PAX (Peace) by Prairie-View A&M faculty composer John Cornelius. 
---
Galveston: "The Birthplace of Juneteenth" Celebrations and Events 
Annual Juneteenth Parade & Picnic- June 17
Annual Historic Parade celebrating the Legacy of Juneteenth followed by a picnic at Wright Cuney Park.
Parade: 1 - 2 PM
Picnic: 2 – 5 PM

Juneteenth and Beyond Guided Tours
Wednesday, June 7 to Friday, July 14Juneteenth and Beyond is Galveston's very first African American guided history tour franchise. Our guided tours offer pleasant and relaxing ways to experience our amazing heritage. Visit their page for upcoming dates and times.
Emancipation Celebration at The Grand 1894 Opera House- June 16,  6 – 10 PM
Join Juneteenth Galveston for the Emancipation Celebration hosted by the Nia Cultural Center, Inc on Friday, June 16th at the Galveston Grand 1894 Opera House featuring Gospel GRAMMY-Award winner, Reverend Smokie Norful, NAACP Image and GRAMMY Award nominee, Zacardi Cortez and 4th season "Sunday's Best" gospel diva, Amber Bulluck.
Juneteenth Brown Bag Lecture Series- June 10, 12 – 1 PM
This is a year-round series! With additional dates and locations across the Island.
The Juneteenth Brown Bag Lecture Series hosted by Visit Galveston and tourism partners across the island will help us celebrate the history of Juneteenth year-round with guest speakers, writers, or historians who will educate and discuss the history of Juneteenth.
---
Check out VisitGalveston.com for even more exciting  Juneteenth Events taking place on Galveston Island this month and year round!