If you want to use one of the library Cricuts or vinyl cutters, you must attend a free orientation class and earn a badge for the machine you want to use, created on HCPL's Maker Central site for the Cricut or vinyl cutter.
The orientation classes cover the basic operation of the machines, the tools and techniques to create the artwork files, and HCPL's Maker Machine Policy. Our Cricut and Vinyl Cutters are free and open to public use, through our reservation system after earning the badge.
How to make a reservation
Once you have taken the free Vinyl Cutter Orientation Class, staff will register your completion in the system within 2 business days. You will receive an email confirmation for receipt of your badge.
Sign into your existing maker account.
Enroll in the "Maker Central Challenge.
Once badged, click on the Reward tab within the Maker Central Challenge to make a reservation for the equipment.
Fill out the Equipment Reservation Form and click "Submit."  You will receive an initial email confirming your submitted request.
Within one business day, you should receive an email confirming your reservation.
Upon completion of the full orientation, you are able to earn additional model-specific machine badges. You can use other machine models at any HCPL Maker location by simply making a reservation.  These reservations will start with a brief overview of new machines and software, so retaking the full orientation class is not required!).
If you have any questions, please contact the branch library for assistance. • Enjoy the perks of being a badged HCPL Maker!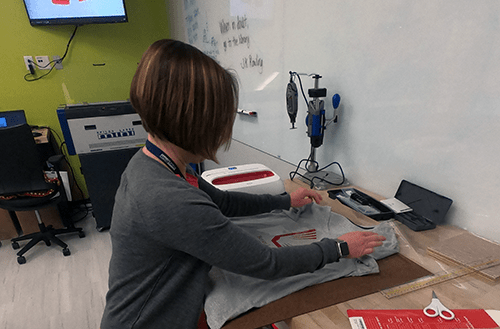 Cricut Materials
Cricut machine capabilities vary based on the different blade types available at each location. Contact your branch for specific material needs. Materials and projects are subject to staff approval.
Paper
Photo paper
Sticker paper
Thin plastic
Vellum
Wood veneer
Adhesive vinyl
Cardstock
Fabric
Felt
Heat transfer vinyl
Iron-on paper
Vinyl Cutter Materials
Patrons are expected to provide their own materials to be cut, as well as transfer tape/application material.
Tools for application and weeding are available for patron use.
Self-adhesive vinyl
Heat transfer vinyl
Software varies by machine type. All Cricut machines use Cricut Design Space. This software is free to download, and customers are encouraged to create their designs in Cricut Design Space before their scheduled appointment. Cricut Design Space has a variety of templates, shapes, and design tools to create your files within the software, or you can upload your own images and vector files.
Vector file types (AI, SVG, EPS, DXF, etc.) can be created and modified using the free vector editor Inkscape. Adobe Illustrator and CorelDRAW are popular commercial programs used to create vector art. Vector files can then be uploaded into Cricut Design Space to be cut out. It is recommended that your vector files are prepared before your reservation so that they can be uploaded quickly.
For cutting out designs, the vinyl cutter requires a vector file. Vector shapes can be created and modified using VinylMaster Cut (available in the Freeman Branch Library's Innovation Lab), as well as Adobe Illustrator, CorelDRAW, Inkscape or with a variety of CAD programs.
VinylMaster Cut is for simple vinyl cutting and allows you to produce vinyl lettering, logos and pinstriping. VinylMaster Cut comes with a suite of text, curve and object tools. VinylMaster Cut is the control software used to layout designs and send them to the vinyl cutter at the Freeman Branch Library's Innovation Lab.