There are lots of ways to give back to your community and support your library.
You know that you count on HCPL for the latest bestseller, free WiFi, great programming, and more, but you probably don't know how much we count on you!
Volunteers make our adult literacy tutoring, citizenship classes, Book Buddies and many other programs possible. The Harris County Friends of the Library and individual branch Friends groups support much of the regular programming and special events you enjoy, including our annual Summer Reading Program. Your donations of used books for Friends' book sales support branch collections and events. In short, we could not do all the things we do without you. Please consider getting more involved with your library!
At most branches, volunteers assist with ongoing needs on a variety of projects and tasks. Volunteer opportunities will vary by branch. A few examples of tasks handled by volunteers include but are not limited to displays & bulletin boards, shelving materials, crafts, and special projects.
We invite you to complete the General Interest Form. Click 'Get Started' now!
Help neighbors improve their reading, learn to speak English, or become a U.S. citizen. No teaching experience is necessary. We supply training, materials, and teaching space. You supply a little time and the desire to help others improve their lives in your community. (NOTE: You must be 18 years or older to become a volunteer tutor.)
Share your love of reading with a child in your community. Book Buddies is a free program that brings children and volunteers (adults or teens) together to share the joy of reading. It pairs trained volunteers (Big Buddies) with children in Kindergarten through 3rd grades (Little Buddies). For 10 weeks, the Buddies meet once a week in the afternoon for 45 minutes of one-on-one shared reading. Big Buddies will have a background check and will attend a training session.
Big Buddy Volunteer Applications Now Being Accepted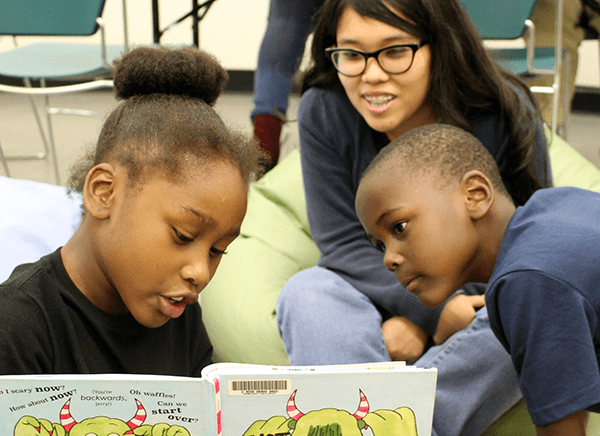 Teen Social Media Creators
Join the Harris County Friends of the Library Teen Volunteer Group! This will be an opportunity for the youth of Harris County to volunteer with the Harris County Friends of the Library. Volunteer duties will include designing digital content for our social media accounts. There will be once-weekly virtual check-ins via Microsoft Teams.
Each branch has its own Friends of the Library group all of which are included in the system-wide umbrella group, Harris County Friends of the Library (HCFOL). HCFOL is made up of dedicated members who support and promote library programs and activities through fundraising, grants and donations. HCFOL and all of the branch Friends are key components in HCPL's mission is to help the library enrich lives and strengthen communities through its innovative services.
For more information about Harris County Friends of the Library, visit hcfol.org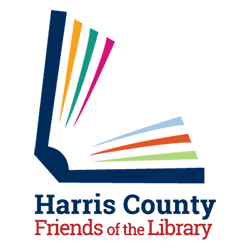 We at HCPL are consistently amazed and encouraged by your generosity. Your monetary and material support are deeply appreciated. While we cannot accept your donations directly, the Harris County Friends of the Library and individual branch Friends' organizations can and will put your donations to work to improve programs, services, and collections.
Your donations can be mailed to the library and will be delivered to the Friends of the Library treasurer. Make checks payable to Harris County Friends of the Library - or your local branch Friends group. Donations will be used to support programming and for the purchase of new materials or supplies. If you are donating on behalf of someone else (honorarium, memorial donation), please provide that information with your donation.
Many companies provide matching funds for your tax-deductible donations. Some companies provide grants for employees' volunteer involvement. Check with your company to see if they match gifts.
HCPL branches each have a Friends of the Library group which sells books to raise money for programs and the purchase of new books for the branch they support. If this doesn't fit your needs, other options include second-hand bookstores, resale shops, and an organization named Better World Books (www.betterworldbooks.com) which accepts donated books in support of non-profit literacy organizations.
Community groups or individuals interested in donating a book in honor or memory of someone, please contact your local branch to determine what might best fit the local collection and respect the memory of your honoree. Branch locations can be found here.