We are extremely proud to announce that the Library, our partners, and our exclusive SPARK partnership have been recognized by the Texas Library Association with two awards:
2023 Libraries Change Communities Award
2023 Demco/Upstart Innovative Program Award
The awards were presented at the TLA 2023 Conference in Austin, TX, where SPARK partners' representatives received these honors.
SPARK (Sharing, Partnering, and Reaching for Knowledge) is a resource-sharing initiative and partnership between Harris County Public Library (LSC-Tomball Community Library), Tomball ISD, and LSC-Tomball.  The SPARK collaborative initiative plays a crucial role in the education and development of youth in Tomball and encourages them to become lifelong readers and learners by providing access to an abundance of library resources. The initiative has four main elements: SPARK library cards and access to resources; resource sharing and delivery; library learning corners; and expanded collaboration between the librarians of TISD and LSC-Tomball Community Library.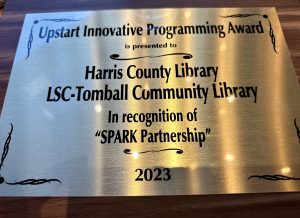 The Texas Library Association Libraries Change Communities Award is presented to a collaborative community effort that recognizes positive achievements and promotes outstanding library-based initiatives in Texas. The SPARK Collaborative Initiative is recognized with this award.
The Demco/Upstart Innovative Program Award recognizes a library that has implemented an innovative program that has enhanced its visibility within its service community. Harris County Public Library (LSC-Tomball Community Library) was selected to receive this award.
The SPARK partnership was created in April 2021 to connect Tomball ISD students and staff to a broader range of public and academic resources with the purpose of "sharing, partnering, and reaching for knowledge." Dr. Martha Salazar-Zamora, Tomball ISD Superintendent of Schools, pointed out the importance of SPARK by saying, "SPARK has truly enhanced our students' learning experience and has continued to create a love for reading within our schools. We are proud of this initiative, and what it has become. We are always thankful for the continued educational partnership we have between our local college, library, and school district, and know that through community support, our 'students will lead in creating the future."
The SPARK initiative provides all students at TISD with a unique SPARK library card, which comes with access to HCPL library resources that can also be delivered to students at TISD campuses. Edward Melton, HCPL Executive Director, emphasized, "Through partnership and collaboration, the SPARK program serves as an exemplary model of community building. Through the collective efforts of Tomball ISD, LoneStar College-Tomball, and Harris County Public Library, this program has successfully enhanced youth access to reading and literacy, fostering a community of lifelong learners."
This partnership is loved by our Tomball Community. It was also recognized by the City of Tomball in September of 2021. "SPARK is a perfect example of the culture of our Tomball community," noted Dr. Lee Ann Nutt, President of LSC-Tomball. "It signifies and magnifies the close working relationship between Lone Star College-Tomball, Tomball ISD, and the Tomball Community Library. Together we make a bigger difference than we do alone."
We are excited to share this news with the community! As noted by Janna Hoglund, LSC-Tomball Community Library Director, "We are so grateful to everyone involved in making this special collaboration possible and to the Texas Library Association for recognizing it!"
Learn more about the SPARK partnership :
SPARK: Sharing, Partnering, and Reaching for Knowledge
Learn more about the Texas Library Association Libraries Change Communities Award
Learn more about the Demco/Upstart Innovative Program Award