From the practical to the fantastical, 3D printers let your imagination take shape! 3D printers build three-dimensional objects by laying down thin layers of a material based from a computer-generated design. 3D printers can make a prototype of your invention, a replacement part for a household gadget, a cosplay mask, or just about anything else you can think of.
Our library has 3D printers for public use, you are expected to attend a free orientation class and earn a "3D Printing Badge" created on HCPL's Maker Central site for the printer you wish to use.
The orientation class covers the basic operation of the 3D printer, tools and techniques used to create 3D models, and HCPL's Maker Machine Use Policy.
After earning your badge, you may reserve time to use a 3D printer for free to print your project. If you've already earned a 3D printing badge for a different 3D printer, you will earn a new badge during the hands-on portion of your orientation/reservation on the new machine.
Public 3D Printer Orientations
Software and 3D printing resources
3D printing starts with a computer model which is typically obtained in one of three ways: Create your own design using Computer-Aided Design (CAD), Download an existing design, or 3D scanning
Design using CAD (Computer-Aided Design): There are a number of free 3D design tools available, including:
Tinkercad is one of the best options for beginners. It is a free, browser-based tool that requires no download or installation.
Fusion 360 is a cloud-based 3D modeling CAD software platform for professional product design and manufacturing.
Other free options include OpenSCAD, Sculptris, FreeCAD and Onshape.
Download existing models: You can find designs online that are creative commons-licensed and public domain for personal use. Check out Thingiverse, Pinshape or other 3D model repositories for a large variety of models.
3D scanning: It is possible to use special tools and computer software to scan existing objects and create 3D models. The technology isn't perfect and often requires significant "post-processing" to prepare the model for 3D printing.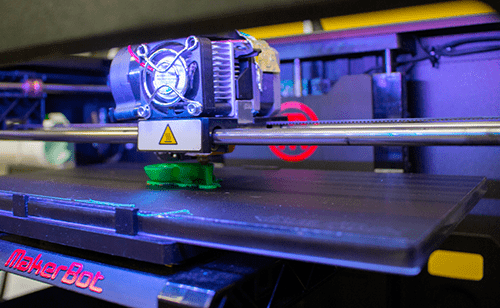 3D Printers and Locations
How to make a reservation
Things you should know:
You must be present to begin the print.
The cost of printing is 10¢/gram for the final project. Estimating the project cost and printing time may be done using software taught during the orientation classes or ahead of time with the free slicer linked on the reservation form.
Patrons under the age of 12 must be accompanied by an adult.
How to make a 3D printer reservation:
Complete the "3D printer" orientation at an HCPL branch
Staff will register your orientation completion in the Beanstack system within 2 business days
You will receive a confirmation email for receipt of your badge.
Upon completing the full orientation, you can earn additional model-specific machine badges.  You may use other machine models across the library system by simply scheduling the machine at the branch location.  (You do not have to retake the full orientation)
Sign into your existing Maker Central account or sign up for a free account now.

, opens a new window

 (If you registered for HCPL's Summer Reading Program, you may already have an account)
Under the Challenges section, click on "Maker Central."
After being badged, you can click on the rewards tab and make a reservation.
Fill out the Appointment Form selecting an available day and time then click "Submit".  You will receive an email confirming your reservation.
If you have any questions, please contact the library branch.
Enjoy the perks of being a badged HCPL Maker!