At this time, Harris County Public Library's 2023 distribution of Chromebooks has ended
No additional Chromebooks are available for receipt or replacement. If you received a Chromebook or Hotspot during one of our distributions and are experiencing technical difficulties with the device, please contact T-Mobile at 844-341-4834 or visit Google Support at support.google.com. If either of these services are unable to resolve your issue, contact your nearest Harris County Public Library for further assistance. Thank you.
Harris County Public Library and T-Mobile provided computers and internet to those in our community who need them.
Using American Rescue Plan Act funding, HCPL partnered with T-Mobile to put connectivity and technology into the hands of people who find themselves on the wrong side of the digital divide. HCPL made 15,000 Google Chromebook laptop computers with built-in internet connectivity available for extended checkout at most HCPL branches and community partner locations.
Acer 11.6" - 511 Chromebook
Chromebooks are easy-to-use laptop computers with a browser-based user experience. They come with built-in WiFi so no other equipment is needed to connect with work and school. They are loaded with Google Chrome extensions and support multiple languages including English, Spanish, Chinese, Filipino and Vietnamese. They offer Child-safe internet browsing and come with a quick-start guide.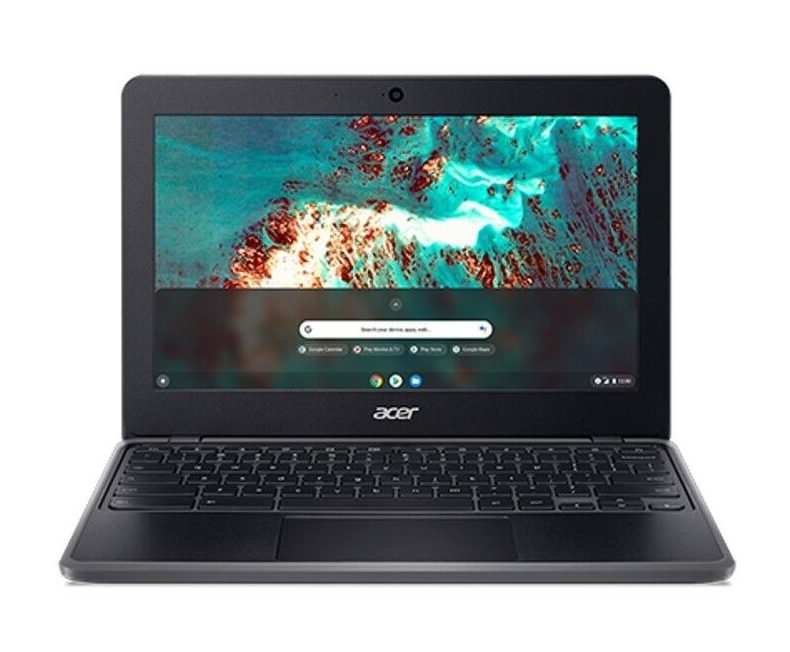 Who can get a a Chromebook?
You qualify to receive a Chromebook, if:
You have a valid Harris County Public Library card, and you do not have a laptop or desktop computer that meets your work, school, or personal needs.
Simply put, if you are not able to do the things you need and want to do because your internet service or computer is too slow or too unreliable, YOU QUALIFY. You will not be asked to prove you need a device. There are no income restrictions. All you need is an HCPL library card.
Requirements
You must have a valid Harris County Public Library card. (Need a library card? See "Get a Libary Card" below)
You must register for and attend an ECF Chromebook Orientation at a participating Harris County Public Library branch location. You must register at least one hour before the Orientation begins.
ECF Chromebook Orientation registration will be available starting February 2023.
Digital Access at a Glance
Federal funding for the Emergency Connectivity Fund has not been extended. HCPL is not anticipating another round of Chromebook distributions.  

Visit www.hcpl.net/connected  for video how-tos, links to learning resources, and computer class schedules at HCPL branches. 

HCPL staff may also be able to help with basic computer use and common software questions in person at all HCPL branches. 

HCPL cannot provide in-depth troubleshooting or technical support. Visit the HCPL Connected page for information about technical support. 

We currently have funding for mobile data until the end of 2023. If it is extended past December 2023, we will update this page. When mobile data ends, your ECF Chromebook can connect to other WiFi sources including WiFi at all HCPL branches. 

The Emergency Connectivity Fund (ECF) is using $7.7 billion in American Rescue Plan Act funding through the FCC/USAC E-rate program. Schools and libraries across the country were invited to send in proposals. The goal of the program, for libraries, is to connect otherwise unconnected patrons to the internet in their homes. While the school side of the program is focused on connecting students to eliminate the homework gap, the library program is designed to connect library patrons of all ages. HCPL applied to receive 15,000 Chromebooks and 40,000 T-Mobile WiFi devices. 

HCPL does not have a stock of Chromebooks or charging cables for replacement. 

If your device is lost or stolen, contact the library as soon as possible. HCPL Phone Numbers 

Damaged devices should be returned to an HCPL location. 

You will not be charged for lost, stolen, or damaged devices. 

No! One of the best things about these ECF Chromebooks is that they come with built-in WiFi connectivity. That means anywhere you go, you can connect to the internet for work, school or personal use. You will learn how to connect to it in your orientation appointment.