Originally published Nov 4, 2021
By now, you have probably heard of the viral video sensation known as Curbside Larry. But did you know that John Schaffer, the actor and Harris County Public Library Program Production Specialist who portrays Curbside Larry, along with Barbara Bush Branch Library won the Texas Library Association's Best of Show Branding Iron Award for the Curbside Larry campaign? 
TLA's Branding Iron Awards honor the inspiring and creative work of librarians who are promoting their services, programs, and events. The awards are presented in several categories, and one library is awarded the overall Best of Show.
According to Laura Bonds, Adult Services Librarian at Barbara Bush Branch Library, The "Curbside Larry" project was meant to increase circulation by at least 20% and to reach a minimum of 3,000 views on social media. The hope was to increase awareness of Barbara Bush Branch Library's curbside services while the building was closed to the public due to the pandemic.
By any measure, the Curbside Larry video was an unbelievable success. To date, it has been viewed by 1.2 million people and retweeted nearly 3,700 times on Twitter, and has garnered another 56,000 viewers on Youtube. The social media viral phenomenon quickly caught the attention of mainstream outlets when it was posted on social media in July 2020. The video was featured on CBS This Morning, and John Schaffer appeared with Edward Melton, HCPL Executive Director, on ABC's Good Morning America. The video was also written up in the Houston Chronicle and Texas Monthly, and later in the year, Curbside Larry was named one of Texas Monthly's "Best of Texas."
First "Curbside Larry" video on Youtube (Aug 6, 2020): Howdy y'all, meet Curbside Larry of the Barbara Bush Branch Library - He's here to talk to y'all about our CRAZY CURBSIDE SERVICE!
Inception 
The creative approach of the video, from the imagination of Schaffer, was to lean into the low-budget/late-night local commercial aesthetic. According to Schaffer, Curbside Larry is an amalgamation of television salesman, Crazy Gideon, opens a new window a local Los Angles TV mainstay; Houston's own Jim "Mattress Mack" McIngvale,  and the late Marvin Zindler. KTRK 13's legendarily flamboyant investigative reporter. While the video's main goal was to raise awareness of the library's pivot to curbside services during the pandemic closures, he also hoped to lift the community's spirits during the dark days of the lockdown with Curbside Larry's unbridled enthusiasm.
"There was no agenda; we just wanted to highlight library services and show people something positive," says Schaffer.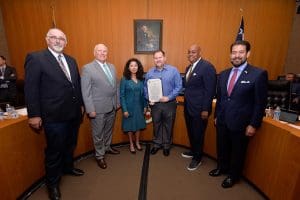 L-R: R. Commissioners Jack Cagle (Pct 4), and Tom S. Ramsey (Pct 3), Harris County Judge Lina Hidalgo, John Schaffer, Commissioners Rodney Ellis (Pct 1) and Adrian Garcia (Pct 2). on Branding Iron Award Day in Harris County Texas, July 20, 2021.
Results 
When the first Curbside Larry video went viral in mid-July 2020, not only did circulation greatly increase (48% in six weeks), but John became the de facto spokesperson for the Harris County Public Library system. The Barbara Bush Branch had to install an additional phone line to handle the huge increase in patron calls for holds, book bundles, curbside printing, and crafts kits. 
Much of this success is afforded to John Schaffer, Curbside Larry himself. "John's exuberance for life fuels his creativity," says Bonds, "which makes him such a valuable team member" 
In recognition of Schaffer's and Barbara Bush Branch Library's efforts, Harris County Commissioners Court proclaimed July 20, 2021, to be Branding Iron Award Day in celebration of the library's "unprecedented achievement in library advocacy."
For his part, Schaffer says he is "honored and humbled" to receive the Branding Iron Award, and joyful that the character of "Curbside Larry has brought so much positive attention to "HCPL, Harris County, Houston, and libraries across the nation." And he is quick to credit his fellow team members for the campaign's success: Laura Bonds (social media, award application, and stats), Amanda Herbert (videography and script assistance), and Cathy Clark (scheduling and communication). 
Harris County Public Library congratulates John and the Barbara Bush Branch Library team! 
Have you seen the first Curbside Larry video before this? What was your initial reaction to it? Did it affect how you used the library during the lockdown? DO you think Curbside Larry has become a part of the community now? Drop a comment!