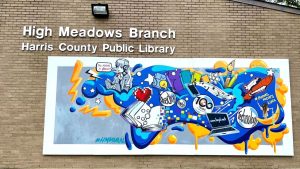 It all began with the Census. In the East Aldine neighborhood, filling out the Census is crucial because it helps bring more resources to the community. To raise awareness, Harris County Public Library partnered with Harris County Precinct 2 and UP Art Studio to get a mural painted on the front wall of the High Meadows Branch Library. The mural gave attention to a worthy cause and helped spread the word while the world shut down due to CoVid-19. An added benefit of having the mural was the increase in visibility of the library that is centered between a high school and middle school. 
Credits: Eric Del Rio (artist), Noah Quiles, East Aldine Arts Council, East Aldine District Management, Up Art Studio 
After the Census deadline ended, the question arose "What should be done with the now outdated mural?" The mural helped drive traffic to the library and was a very memorable piece of the East Aldine Community. After some meetings with community and library members, it was quickly decided that a new mural should be created that represented the community and its library.   
High Meadows Branch Library staff were allowed to add input into the design of the new mural. Staff contributed ideas to create a design that would be interactive and relevant to the library's impact. The final design incorporates elements that are synonymous with libraries like books, technology, and art, while also highlighting Harris County Public Library's Centennial Birthday. 
The mural, now a fixture in the East Aldine Community, represents what we all know libraries to be: more than just books. Branch Manager Jane Holt says, "I want it to make people think about all the things a library can do for them. There will always be books, but we also offer all kinds of technology." The new mural was sponsored by East Aldine Management District and Up Art Studio and became a part of the Big Walls, Big Dreams mural festival. 
You can visit the mural at any time and even snap a photo! While you're in the area, head over to the Aldine Branch Library and view their fun AR Interactive Mural.  
Credits: Jesse DeLeon (artist), East Aldine Arts Council, East Aldine District Management, Up Art Studio 
This blog was written by Jennifer N. and first appeared in January 2022.