Harris County Public Library and Harris County Juvenile Probation Department have been partnering together since 2016 to provide teens in the county's juvenile detention centers access to a curated collection of library books and library programing to provide the residents an opportunity to see what our libraries have to offer.  
HCPL currently services three of HCJPD's locations – Youth Village (Seabrook), Leadership Academy (Katy-Hockley), and the Juvenile Justice Center (Downtown Houston). HCPL's Juvenile Probation Detention Outreach Specialists, Michael Godoy and Natalie Llamas, provide support at these facilities on a weekly basis -- alternating between book checkout and library programming per visit. 
The collection of books in the facilities libraries are curated to fit the needs of the residents. Taken into consideration is representation. It has been seen that the residents prefer reading "mirror books" -- books in which they can identify to the characters and the situations they're in. The JPD outreach specialists order books that the residents can relate to, and also provides them with an uplifting and inspiring narrative. The genres of books currently in their collection are Realistic Fiction, Fantasy, Science Fiction, Suspense, Nonfiction, Spanish, Graphic Novels, and Series books.   
Along with books to be read for the purpose of entertainment, HCPL also offers residents informative Reference books. It has been seen that the residents have a desire to learn more about money management, parenting, career options, getting a Commercial Driver's License, studying for the GED test, books on life skills, mental health and relationship skills.  
The programming HCPL does with the residents has been seen to help them expand their interest and broaden their understanding of what the library can offer beyond books. The JPD Outreach Specialists tailor their programming around they books in their library's collection. They start each program activity letting the residents know what book from their collection the activity they're doing is based on, and what the book is about.
One program done with the residents was based on the Young Adult Realistic Fiction book Punching the Air by Ibi Zoboi and Yusef Salaam. The story is based on Salaam's real-life experience being one of the Exonerated Five in the Central Park Jogger case. In the story, an African American teen named Amal is wrongfully sentenced to a juvenile detention center for a crime that he didn't commit. Throughout the story, you see Amal learn to channel his anger, frustration and hope through his poetry, writing, and art. The JPD Outreach Specialists had the residents create galaxy bookmarks using watercolors, wax crayons, and stencils to create watercolor resist art. The residents really enjoyed this activity, and it brought an interest in a book they acknowledged might not have previously caught their eye.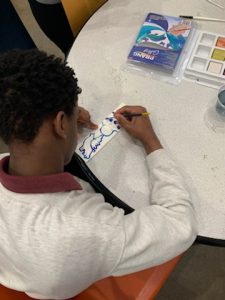 The work done in HCJPD's facilities is appreciated by HCJPD's staff and residents alike. Larynn Johnson, a staff member from Leadership Academy, commented on the work HCPL does at her facility saying, "HCPL really shows an interest in getting books the youth like to read. Our youth always look forward to coming to the library and reading the new books that they bring. We also have a lot of youth sign up for the different programs that the library offers, and they look forward to that too." One resident from Leadership Academy also commented saying, "I love coming to the library because I can pick out great books that I like to read, and we get to have fun and do special activities. I also like the bookmarks!" 
This unique partnership between HCPL and HCJPD is effectively bringing support and access to library resources that this population of teens could greatly benefit from. The JPD Outreach Specialists' goal for the residents they work with is to show them what resources can be offered for free at their local branch libraries, a safe space that supports gaining knowledge, and to create a lifelong passion for reading and self-improvement.  
To find out more information about Harris County Public Library's partnership with Harris County's Juvenile Probation Department, please reach out to Linda Stevens at linda.stevens@hcpl.net or Jennifer Schwartz at jennifer.schwartz@hcpl.net.