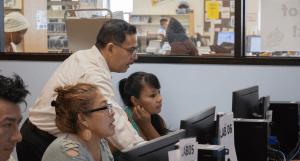 Staying indoors during the sunny and humid days of Houston can provide Houstonians with an ample 10 months of the year to increase their computer new skills! For students and adults alike, no other skills are as important for job searching and career advancement as computer literacy and experience with different programs and software.  
Harris County Public Library offers computer classes online, at branch locations, and at some community centers. Make this year the year you level up your computer skills.  
HCPL offers devices to help you get online.  
Earlier this year, the library distributed thousands of Chromebooks and WiFi Hotspots. While we do not have any more Chromebooks available- We have FREE 5G WiFi hotspots with a full year of service available at all our library locations. These devices provide high-speed internet for a whole household; they support up to 25 devices. 
Once you are online, we have a series of LIVE online computer classes that teach specific devices like the recent Chromebook checkouts or Microsoft, opens a new window programs available weekly. We also have videos available 24/7 to help new users get acquainted with popular internet websites like Google. This series of videos is available on our YouTube page and is a good place to start.  
We welcome people of all levels who want to learn new skills to explore available classes at their library. Our branches offer a wide variety of classes, personal computer skill development, and assistance with technology. If you are just getting started, we suggest our basic computer classes which are available at several locations. Find basic computer classes near you here, opens a new window. 
We also offer bilingual computer classes for Spanish speakers at several locations: Aldine and North Channel branch libraries on the east side, and Northwest and Fairbanks branch libraries on the west side. More locations with bilingual computer classes can be found here, opens a new window  
If you need help with a specific program or device, opens a new window, our librarians can help you with that as well! We have one on one tech help sessions available, and regular classes at some locations that can help you get familiar with social media like Facebook, programs such as Microsoft Excel or even creative programs like Canva, opens a new window! 
Don't stop there!
Once you are online and have basic computer skills, the library has ways to gain skills for a new career or level up in your current job. HCPL offers LinkedIn Learning., opens a new window It is free to access with your library card and offers thousands of classes including management skills, project management, and bookkeeping as well as lots of learning paths for creative professions like graphic design and video editing. LinkedIn Learning is a wonderful tool for anyone looking to get to know a new program or job skill and the best part is that it is connected to your LinkedIn profile, and you receive a certificate when you complete each course. LinkedIn Learning is available 24/7 so you can learn any time and at your own pace. The courses are available in many languages including Spanish, opens a new window  
As we move into cooler months, the library is going to continue to provide computer classes so while summer is an excellent time to level up, you can keep on learning year-round and Harris County Public Library is here to support you every step of the way.